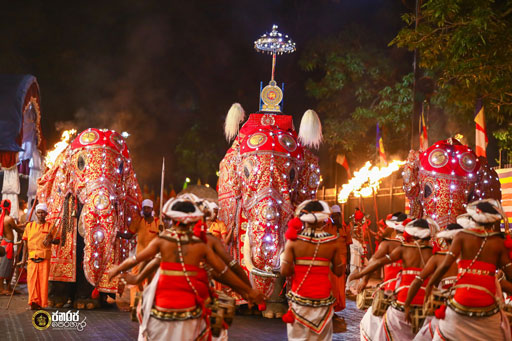 After 34 years, the Republic Parade is going on a street tour
February 22nd, 2023
The Republic Perahara, which was held after thirty-four years at the historic Sri Dalada Palace in Kandy, toured the streets of Kandy today (19). Its opening ceremony was presided over by the President Mr. Ranil Wickramasinghe and the Prime Minister Mr. Dinesh Gunawardena.
The parade was organized in conjunction with the 75th Independence Day celebrations and to attract the tourism industry. Only on the most special and important occasions in the country, at the request of the government, such special processions are conducted by Sri Dalada Maligawa. According to the instructions of Minister Vidura Wickramanayake, these activities were organized and led by the Ministry of Buddhasasana Religious and Cultural Affairs.
This Republic Perahara was beautified by all Perahara cultural elements including dance groups in Dalada Maliga and Satara Mahadevala. Here, instead of the relic casket, the flag of the Republic is displayed on the Mangala Hasthiraaja in procession. Yesterday (19) at 6.45 perahara, which started from the Kandy wedding hall, came through Dalada Street, Yatinuvara Street, Kanda Street, entered Raja Street and returned to the palace.
Honorable Ministers, President's Senior Adviser on National Security and Chief of Presidential Staff, President's Secretary, Secretary of the Ministry of Defense, Chief of the Defense Staff, Army Commander, Ambassadors and many others attended this event. The Minister of Buddhasasana Religious and Cultural Affairs and other heads of ministries also participated in this event.