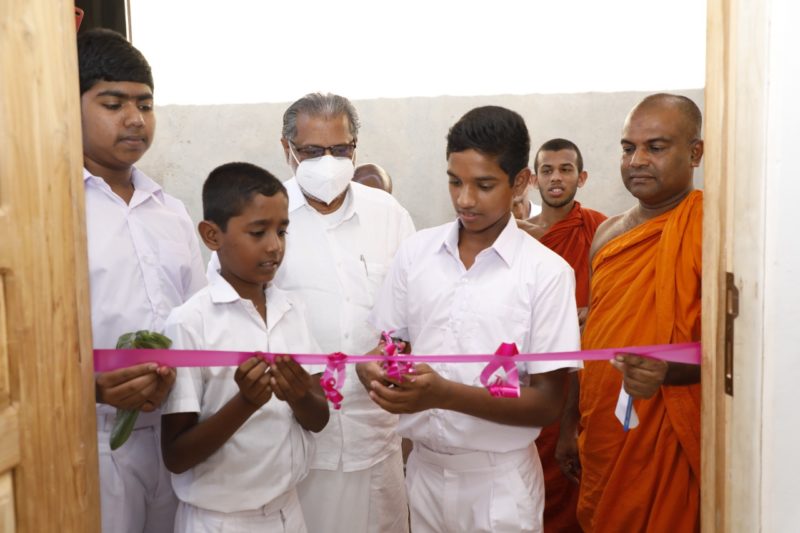 Installation of a new library premises for students studying in Pirivena at Sri Dharma Siddharama, Ukuwela – Purijjala
October 3rd, 2022
The initial phase of Piriven education was marked after Mahindagamana. The building known as Parivena was not initially used as an educational center. The group of buildings built by King Devanampiyatissa for the monks is known as Parivena. Accordingly, in the early days, Parivena or Pirivena was the place where the monks lived. It is not untrue that education was provided for monks in such places.
However, from the very beginning, the center of Sinhala Buddhist education in both the lay and clerical sectors of our country was Pirwen Education Centers. With this, the sages and great scholars born in our country are not few. It is the responsibility of all of us patriots to protect these rich educational traditions for the next generation in order to create an educated and intelligent people in our country in the future.
Ukuwela – Purijjala Sri Dharma Siddharama, located in Pirivena, a new library premises was installed recently (27) to meet the deficiencies of a long-standing library. After constructing the building which was only partially completed, the Inter-Constitutional Board headed a fully equipped library to preserve the heritage of the hill country by providing the necessary books and other items. Previously, during the tenure of the State Ministry of National Heritage, funds were allocated for this purpose.
In the meeting held after the opening of the library premises, the Maha Sangha gave a lecture on the services provided by such a library to the student monks and other students. Minister Vidura Wickramanayake also expressed his views on the changes that should take place in the education sector in our country in order to create a righteous society.
Ukuwela – General Registrar of Purijjala World Youth Buddhist Association, Honorary Chairman of Ukuwela College Board, Honorary Registrar of Matale District Chasana Protection Board and Honorary Registrar of All Ceylon Chasana Protection Board Ukuwela Pansalathanna Anuruddha Monastery, Most Venerable Mugunawela Anuruddha Nayaka Thero, Matale District Piriven Education Director, Ukuwela Purijjala Sri Dharma Siddharamadhipatya Pujya Maussaway Aggadhamma Nahimipe including the Lords who provide education in Ukuwela Purijjala Pirivena spoke for this occasion.
For this occasion, Nishanthi Jayasinghe Additional Secretary (Development) of the National Heritage Division, Director General (Acting -Ranminithanna) Somesiri Ekanayake, Chairman of the Inter statutory board for the protection of Kandyan Heritage Prof. H. M. D. R. Herat, Director M.P.W. Shiromani, Vice President Nalinda Makehelwala, Deputy Director Sumit Fernando and other institute officers were present. Minister Vidura Wickramanayake also participated in this event.