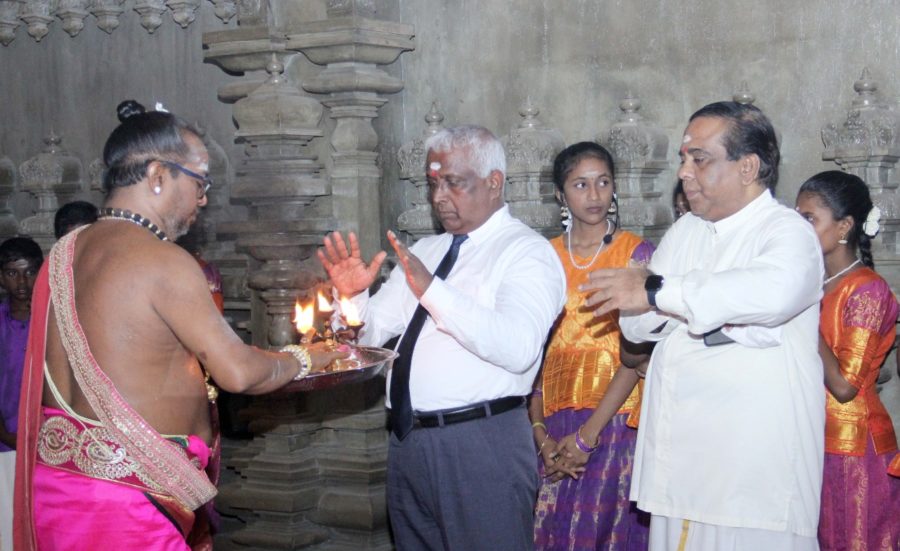 Nawa rathri Pujawa
October 3rd, 2022
During the Navratri Pooja, offerings are made to Goddess Saraswati, the lord of all sciences, Goddess Lakshmi, the lord of wealth and prosperity, and Goddess Durga, the lord of valor and devotion. The first, second and third days are reserved for Goddess Durga, the next three days for Goddess Lakshmi, and the last three days for Goddess Saraswati. Navratri Pooja is also known as Ashada Night Pooja.
Navratri Pooja, the special fast of Hindu religious people, is being held in Hindu temples all over the island this year. On the fourth day of Navratri Puja, the art and special puja worship for the commencement of Lakshami Devi Puja was conducted at Mayurapati Sri Bhadrakali Amman Temple, Wellawatta last (29) evening.
Secretary of Ministry of Buddhasasana Religious and Cultural Affairs Mr. Somaratne Vidanapathirana, High Court Judge Mr. Thurairaja, former Chief Justice Sri Pawan and Director of Hindu Religious and Cultural Affairs Department Mr. A. Uma Maheswaran also participated and the Chairman of the Temple Administrative Council Mr. Periyasamy Sundaralingham and other members were artists. , many devotees participated. Buddhasasana, Religious and Cultural Affairs Minister Mr. Vidura Wickramanayake also participated in this Navratri Puja.