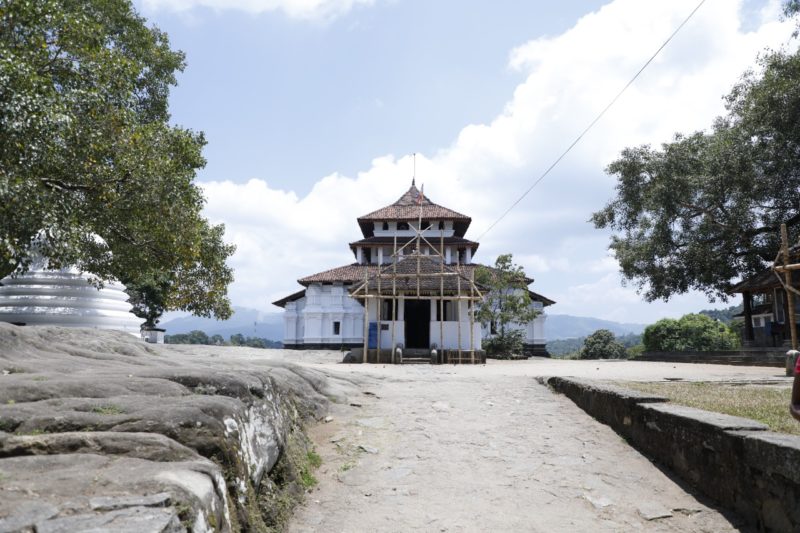 Observation on the preservation of historical frescoes in Lankathilaka Raja Maha Viharaya
October 3rd, 2022
The historic Lankathilaka Raja Maha Vihara is located at a distance of 04 kilometers from the Burimathalawa junction on the Colombo-Kandy road on the Daulagala road. The history of Lankatilaka Vihara, built during the Gampola period, with amazing architectural features, dates back to the 14th century AD. The temple buildings are beautifully built on a natural stone rock and the statue has its own unique traditional Sinhalese sculptural and architectural features. Its inner walls are decorated with paintings from the Kandy era. Kandy Lankatilaka Viharaya AD. It is believed to have been built by King Bhuvanekabahu IV in 1341-1351.
Reverend Amunugama Rajaguru Vipassi, a resident of Malwatu Vihara, a member of Visath Vargika Karaka Sangha, and the head of Lanka Tilaka Raja Maha Vihara, is the current head of the historic Lanka Tilaka Raja Maha Vihara.
The National Heritage Division of the Buddhasasana Ministry of Religion and Culture, together with the Inter statutory Board for the Protection of Kandyan Heritage, recently (27) carried out the monitoring of the preservation of the historical frescoes of this ancient temple.
Additional Secretary (Development) Nishanthi Jayasinghe of the National Heritage Division, Director General (Acting Ranminithanna) Somesiri Ekanayake, Chairman of the Inter statutory Board for the Protection of Kandyan Heritage, Prof. H. M. D. R. Herat, Director M.P.W. Shiromani, Vice President Nalinda Makehelwala, Deputy Director Sumit Fernando and other institute officers were present. A group including provincial assistant directors of the Department of Archaeology, officers in charge of Upland Region, and research officers also participated in these activities. Minister of Buddhasasana Religious and Cultural Affairs Mr. Vidura Wickramanayake participated in these monitoring activities and gave instructions to the relevant departments for conservation activities.