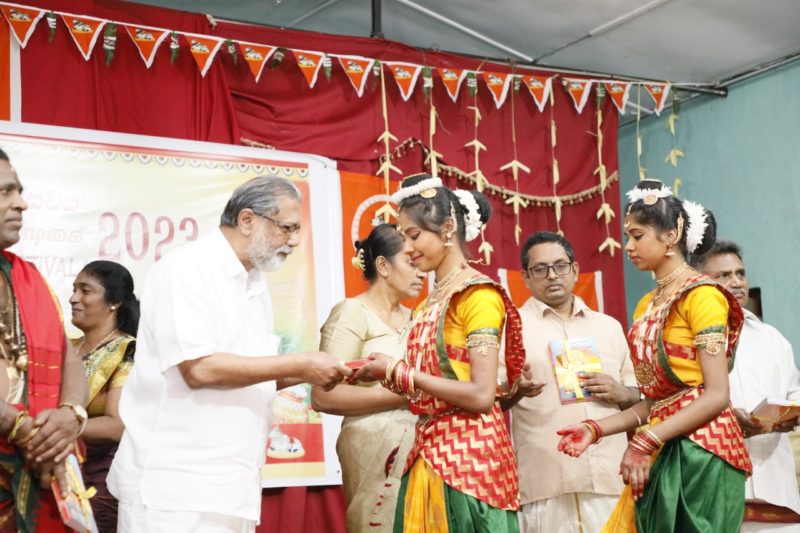 The National Thai Pongal Festival at Sri Kadiresan Temple, Thalawakelaya
January 16th, 2023
The National Thai Pongal Festival organized by the Department of Hindu Religious and Cultural Affairs was held in a grand manner at Sri Kadiresan Temple, Thalawakelaya (15th).
Mr. Vidura Wickramanayake, who participated in this event, expressed his views and said that just as Thai Pongal festival aims to show gratitude to Mother Nature including the sun, it is also important to rekindle many things in our hearts, such as ethics, cultural practices, respect for each other, etc. Expressing their gratitude, they requested everyone to work together as a Sri Lankan nation and work for the betterment of the country. According to the instructions of the Minister, Thai Pongal festival, which is a very important festival for the Tamil people not only religiously and culturally, but also socially, is a special thing to be held in accordance with rituals and traditions, mainly with the participation of Hindu Dhamma school children.
The festival was made more beautiful by the performances of children's cultural dances and songs. Finally, the Department of Hindu Religious and Cultural Affairs had organized a program to give books as prizes to those children. The chief priest of Kadiresan Temple, local priests, Additional Secretary of the Ministry, Director of Hindu Religious and Cultural Affairs Department, officials of the organizing committee of Sri Kadiresan Temple, Hindu Dharma School teachers of Nuwara Eliya district, children and parents participated in this event.